See all products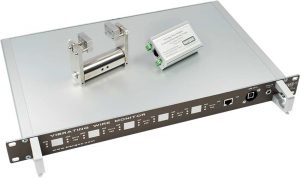 Principle
The VWM is based on the wire resonant frequency dependence on its tension, itself dependent on its temperature.
A positive feedback oscillator excites the wire oscillations at this resonant frequency.
Particles penetrating the wire heat it, change its tension and therefore its resonant frequency.
Vibrating wire sensors have been applied to electron, proton, ion and photon beams. VWM can be used for neutron beams too.
Main features
Dynamic range > 1E6
Resolution for proton beam 3pA
Resolution for electron beam 70pA
Downloads
Datasheets
User's manual
Technical Drawings
In-air
In-flange
Current price list
VWM system components
VWM 1-wire Sensor
Twisted pair cable from Sensor to Front-End Electronics
Front-End Electronics box, each supports 2 Sensors
Front-end to chassis RJ45 cable, up to 50 meters
Chassis, can support up to 6 Front-End Electronics