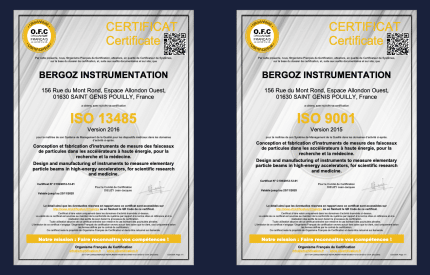 We are proud to announce our ISO 9001:2015 certification renewal (Quality Management System) and our ISO 13485:2016 new certification (Medical devices – Quality Management System – Requirements for regulatory purposes), showcasing to all stakeholders and customers our commitment both to quality standards and the quality management systems needed to meet these standards.
By achieving this level of certification, we continue to demonstrate our ability and desire to effectively and efficiently provide a quality management system while continuously improving our products and services as well as our internal processes.
At Bergoz Instrumentation we will always strive to exceed the high expectations of our clients. With our goals focused on the emphasis of quality assurance and innovative production, we look forward to bringing the business of particle beams non-destructive measurement to new heights in the years to come.