See all products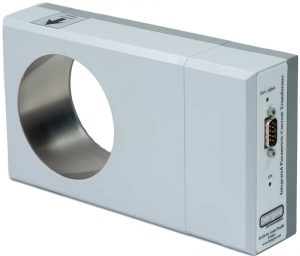 A useful property of Magnetic Current Sensors is that the vector sum of all currents passing through the aperture is measured.
Any source-to-load leakage or breakdown current within the sensor bandwidth can be measured in amplitude and phase if all cables to the load are passed through the sensor.
The source may be a battery, an ac single- or multi-phase line, or a multi-phase ac line from a motor drive.
The load may be a complete system like an automobile, an ac to dc inverter, or a variable speed motor.
This measurement of unbalanced, leakage, or breakdown current may be useful for production test or alternatively for long-term system condition monitoring.
Main features
Full Scale Range from ±1 mA to ±20 A
10 µA resolution over 1 second
Output Bandwidth from DC to 3.8 kHz (-3dB)
Aperture of 82 mm (3.23")
Downloads
Datasheets
User's manual
Technical notes
Current price list